Day 40 of lockdown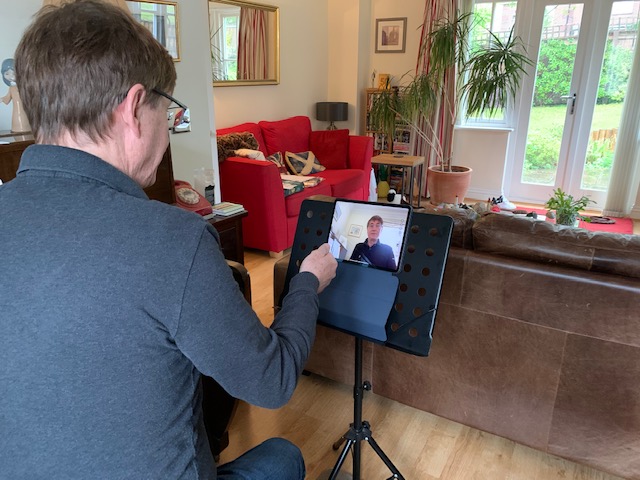 Day 40 of lockdown - all those musicians out there are adapting to the times. Social distancing and choirs are about as mutually exclusive as it gets. There are numerous online activities, though, which while not the same as being physically together, are going some way towards plugging the gap and keeping people in touch with their music-making. I'm giving online singing lessons - as this picture captures - both to private pupils and Cambridge students, which is a new challenge and rather fun!
The social isolation which we're all getting on with has actually been an opportunity for me to get back to listening to music more deeply and enjoyably.
A bit of timelessness rather than the pre-Covid mental rush has been rather welcome.
Scenes from a Professional Life
As a professional tenor, conductor, and pianist I've been very fortunate to experience a huge diversity of concerts, recordings and rehearsals at the highest level both in the UK and in many international venues.

My career in choirs began in earnest at Christ Church Cathedral, Oxford, under Simon Preston, as well as joining the Monteverdi Choir under John Eliot Gardiner and the newly-formed Sixteen under Harry Christophers. This was a great and formative time, learning with such inspiring leaders, but it has been the subsequent 400 months of being in the country's only full-time professional choir, the BBC Singers, which has really shaped my knowledge of the choral world in all its depth and splendor.

Adapting technically to the challenge of such a rapid turnover of repertoire week upon week, from 15th-century polyphony to the most outré contemporary score, is not for everyone. Your flexibility, stamina, musicianship and some necessary compromises are tested to the full. A bit of humour goes a very long way, however, and taking yourself too seriously was always discouraged!

Here are some examples of the good, bad and ugly that I recall from all those experiences.

There have been countless musical peaks, from a short piece of atonal Webern – Entflieht auf leichten Kähnen – conducted by Pierre Boulez in Lucerne, which was simply the most stunningly perfect performance ever, to Monteverdi's 1610 Vespers in Istanbul, where I delivered the tenor solo echoes from a turreted gallery overlooking the city in truly muezzin-like guise. It's often the unexpected, however, which turns out to be the most memorable performance. In 2006 we gave a concert of unaccompanied choral music to a provincial audience outside Mexico City. Directly in my eye line was a seriously tough-looking hombre, most unlike the standard Radio 3 metropolitan audience member. As Purcell's Hear my Prayer O Lord unfolded, this man was reduced to tears just by the physical experience of the collective voice in front of him. That is what I consider to be a truly great live performance.

On the other side of the coin, there have been some 'bads'. The daily Morning Service on Radio 4 was for many years the start of my performing day, live to up to one million listeners. A new and, in Anglican terms, deeply inexperienced conductor had a nerve-wracked first go at leading it. Not only was he removing a shoe (don't ask) as the red light came on for the broadcast, but he continued to give a note for the hymn a fourth too high! The tenors and basses made a quick calculation that the new key was manageable, the sopranos went back to the written pitch and the altos improvised. The public was treated to a line of John Cage followed by a deafening silence…

Like the good, the ugly can arrive when least expected. Warsaw seems to have been an unfortunate place for such glitches. A live broadcast to several countries was once punctuated by a nun carrying on with her regular flower-arranging in the church with dramatic sellotape ripping and paper shredding, oblivious of the atmospheric calm of the music we were singing.

But more ugly, perhaps, was the encore which we prepared in Polish in the late 80s as a mark of friendship to our hosts. When we started singing, though, the performance was greeted with a shocked silence as the words were, in fact, a celebration of the magnificent character of the Communist Russian rulers!